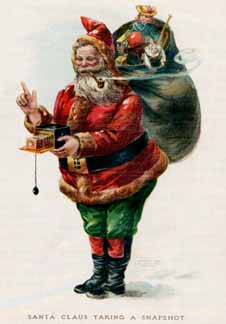 Thought I'd put together a photography equipment Christmas wish list for you all.



A NEW TRIPOD!


You've spent hundreds or thousands of dollars on camera equipment, so it's not a good idea to go cheap with what you're going to use to support it.
So you want a MANFROTTO. They are well built, sturdy, and easy to use. They are not the cheapest, but are worth the extra money. These are the models I recommend:

MANFROTTO 055PRO or MANFROTTO 190 PRO

The 055 is sturdier, heavy, and taller than the 190PRO. Both models allow you to remove the middle pole and mount it upside down or horizontally.
You will also need to buy a tripod head.


TRIPOD HEAD
Manfrotto 484RC2 Quick Release Ball Head

Manfrotto 222 Joystick(with quick release)
Manfrotto 322 Grip Action head

For the extra $15, buy the 484RC2, which has a plate that stays on your
camera and allows you to quickly attach and detach it from the tripod.
The joystick is the coolest head available. To move it, you grip the
joystick and let it go when it's positioned where you want. The 322 is similar but is a bit more compact.


If you've been a really good photographer, you get the Manfrotto
CARBON(055CX or
the 190CX).
They are twice as expensive but since they are made from carbon they are lighter weight and just as sturdy.
Manfrotto 222 Joystick(with quick release)
or the Manfrotto 322 Grip Action head.

If you've been bad.....you keep the same plastic tripod.


ZOOM LENS
You want to have a 70-300 lens for portraits, candids, action, and landscape and nature shots. You could buy the canon or nikon models, but they don't have a macro(close focus)

Here are the lenses that have the 1:2 macro. Comes in canon/nikon mounts,
links are for the canon mount. Applebys in Saint John usually has them in stock, if they don't Henrys in Toronto is a good option.

Tamron 70-300 $229
Sigma 70-300 $199.99
Sigma 70-300 APO glass(better quality) $319.99

If you've been really good...you get the Nikon 80-200mm 2.8 or Canon 70-300mm 2.8.


If you've been bad.....you get a Vivitar 70-300 4.5-5.6 manual focus lens from 1970.


MACRO



If you like doing close ups of bugs, flowers, etc, you want a macro lens!
Nikon and Canon both make macro lenses. These lenses have quieter autofocus than the sigma or tamron, but they do cost a bit more. Personally, I use manual focus most of the time with macro, so I don't care about the sound.

Recommended models:
Sigma 105mm 2.8 macro
Ramron 90mm 2.8 macro


If you've been really good....a Nikon 105mm 2.8 or the Canon 100mm 2.8
If you've been bad...you get a set of close up filters secondhand from 1970.




BIG LENSES



For those who do serious nature or sports photography, you will want to buy a bigger lens.

Canon 100-400mm 4.5/5.6 IS $2000
Nikon VR 80-400 F4.5-5.6

Other brands:
Sigma 170-500mm F5.6-6.3
Sigma 135-400mm F4.5-5.6
Sigma 50-500mm F4-6.3
Tamron 200-500mm F5-6.3

If you've been really good...
A 300 or 400mm 2.8 lens.

If you've been bad....a Vivitar 2x Tele-Converter from 1970.



FLASH


When the pop-up flash won't do (and it won't) you may want to put a flash on your Christmas list!

Nikon SB-600 or Canon 430EX does the job.

If you've been really good,
Nikon SB-900 /B-800, or Canon 580EX, with a set of Pocketwzards!

If you've been bad...a Vivitar 283 from 1970
Happy holidays, hope Santa brings you what you deserve!